On Wednesday we arose at 5:00am. I was prepared to forego breakfast but Lionel said "No, it's paid for, they have to give it to you whenever you want." Fortunately, my housemate had a translator on her phone because I would not have known how to say 5:45 in Spanish. We left for the airport at 6:15 and were all checked in with luggage checked for our flight to Havana and through security by 7:15 though the flight did not leav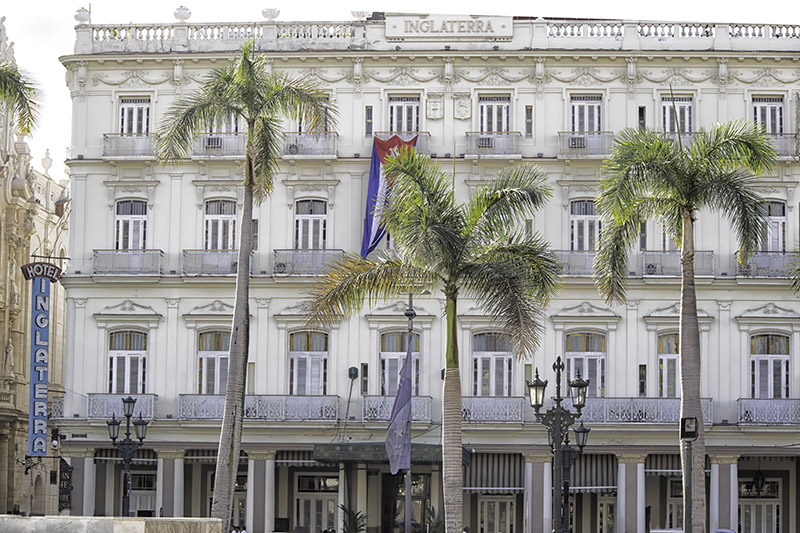 e until 8:35. But at least it was on time. We were in Havana with luggage in hand by 10:15 and picked up by our new driver Lasero, who did not speak English, but who drove a very similar van to David's and he whisked us away to the Hotel Inglaterra on the border between Central Havana (dating to the 19th century) and Havana Viejo (old Havana, dating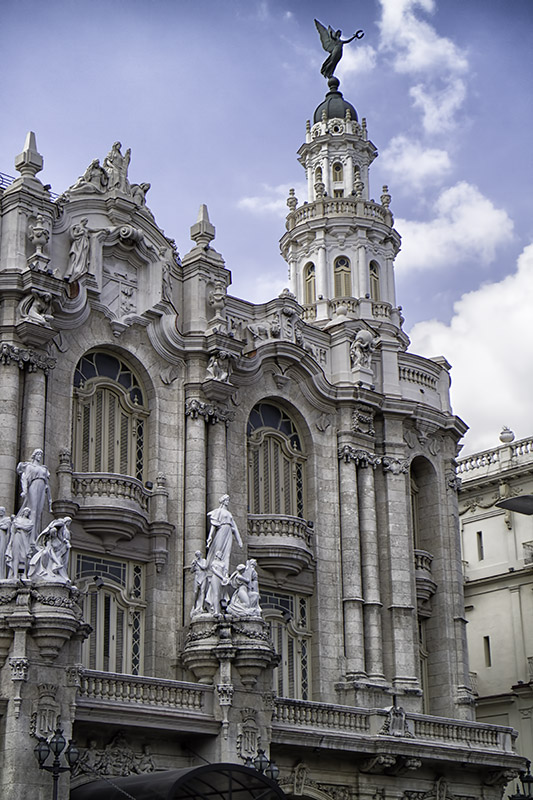 to the 16th century). Our hotel was just next door to the very ornate Opera House and just a block from the national capitol building which was having its dome restored.
Havana is to Santiago as Portland is to Eugene, Seattle is to Spokane, Dallas is to San Antonio, Dublin is to Galway (sorry east coast people, I can't think of any good analogies). Both are big cities but Santiago was much more intimate and manageable. The buildings in Santiago are mostly two stories, in Havana more on the order of four or five. The streets are wider in Havana and the traffic much, much heavier.
We arrived at the hotel around eleven and of course our rooms were not ready so we checked our luggage and Lionel walked us to a very Americanized café for lunch three or four blocks away. Though we were told to focus on walking not photography, I could not resist this woman putting out her laundry. At the restaurant, which we later learned is funded by Cuban Americans, they even had a menu in English,
which was good because Lionel abandoned us to go visit his wife. I ordered a tuna sandwich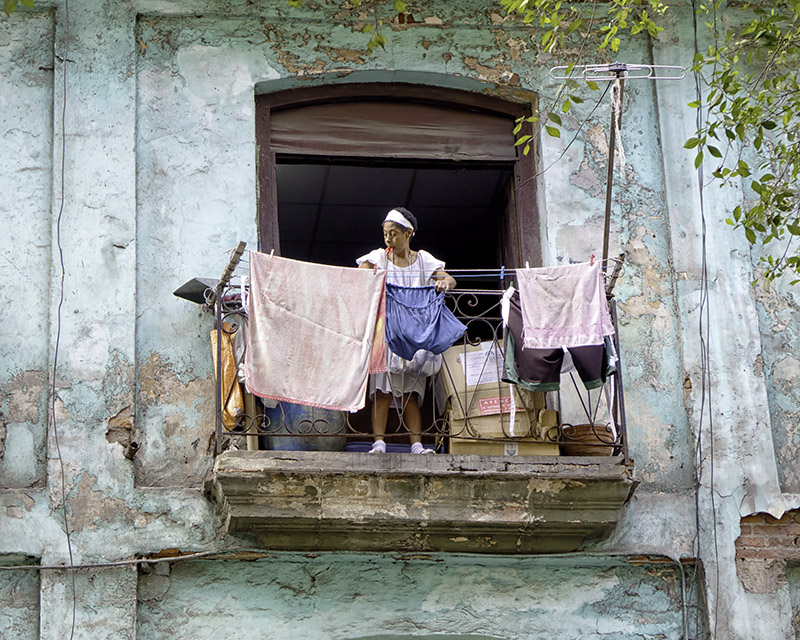 because it was the only one on the menu that didn't say it came with vegetables. Unfortunately, it did anyway. It also had three slices of bread with about a tablespoon of tuna salad between each slice. I peeled off the lettuce and made do with my tuna flavored bread.
After lunch, we walked back to the hotel and checked into our rooms where we were presented with not only a complimentary bottle of water but one of Rum as well. I never opened mine and feared to try and schlep it back to the west coast unbroken. The hotel was, no doubt, very grand in its day but that day had long since passed. Some of our group had stayed there before and said there were improvements but not enough to justify the doubling in price from two years ago. However, my room was clean and the plumbing and electricity, including the air conditioner, all worked to my satisfaction.
I caught up on some photo editing then when outside to Central Park and photographed old cars as they were zooming by. They also had parking areas at each end of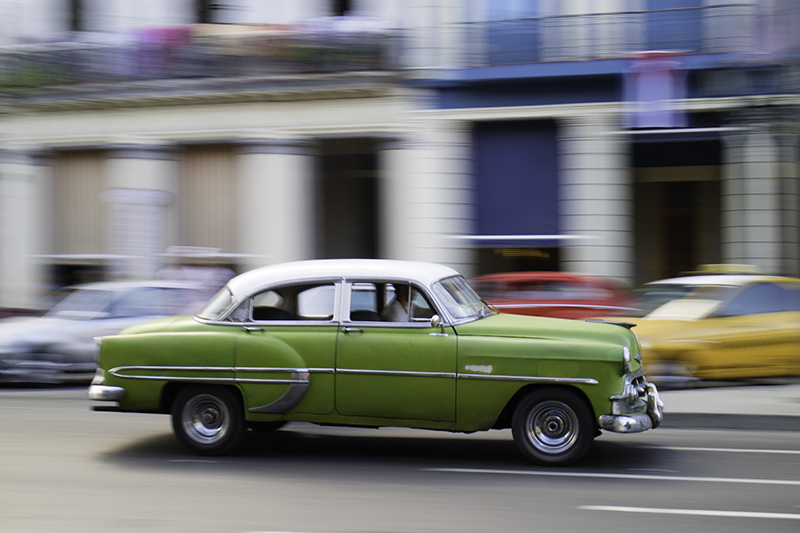 the park filled with old cars now serving as taxis so I did some detail work there. While there are some newer cars from Russia and China, in Havana the old American
cars are the norm.
A few words about the old cars seems appropriate. Though they are running, none of them seems to be running well. Some have nice paint jobs but the interiors are not necessarily intact. The fumes from
these cars, many of them older than I am are atrocious. One of our group members said he saw a man pull up, grab a screwdriver to open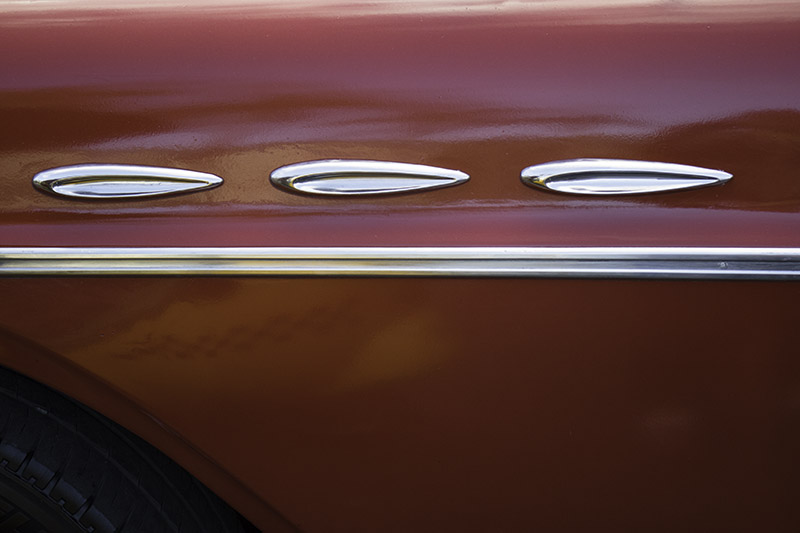 the trunk where he had a 20 gallon jerry can with hoses running out of it. Ron pointed to it and asked "Is that your gas tank?" The man grinned and said "Si, welcome to Cuba." Regardless of condition, the old cars are considered a national treasures. Still, I have a hunch many will find themselves on boats home if relations with the U.S. continue to normalize.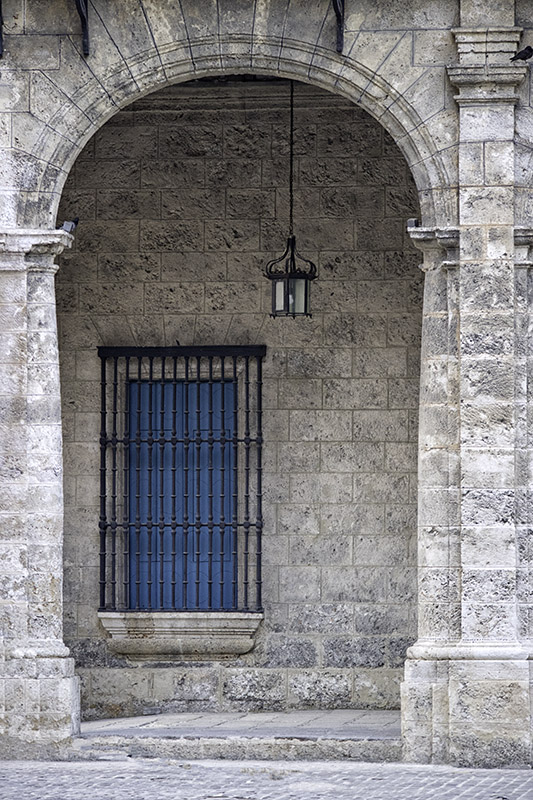 AT 4:30pm we were picked up by the van and taken to Old Havana for a walking tour which ended up lasting for 2 ½ hours. I was exhausted with sore feet by the end and it was too dark for photographs. Lionel said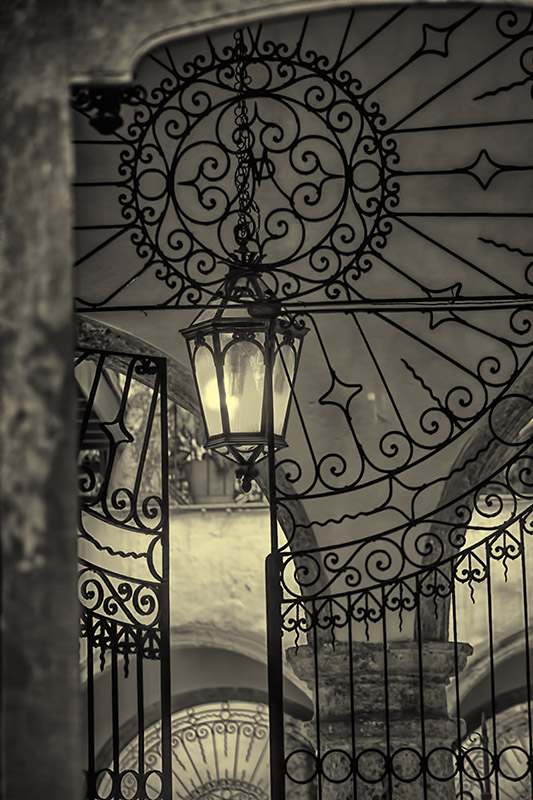 "You are photographers, you need to walk around." Well, yeah, but in the light of day please and with a rest break every hour or so. The architecture was beautiful and I would be happy to return some day to photograph more… in the light of day.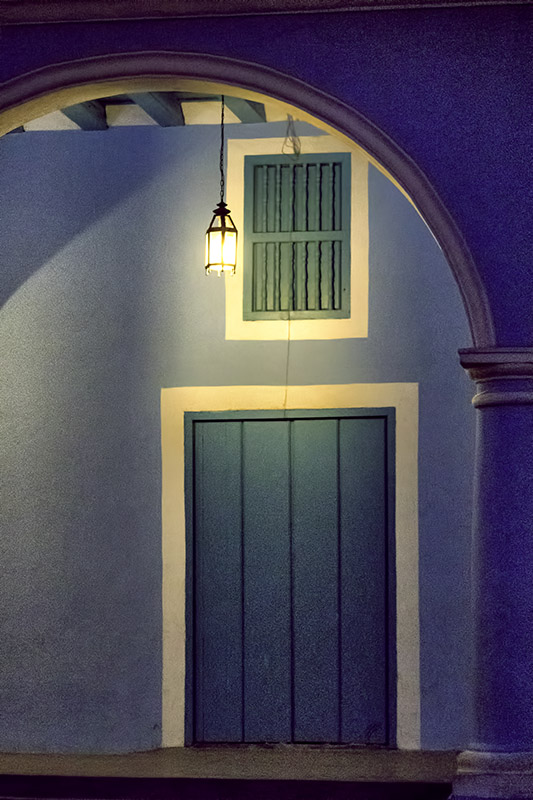 We ended up at a restaurant where we were directed up a narrow spiral staircase to a private room. I had Ropa Vieja, a sort of shredded meat dish, in this case lamb. It was served with the ubiquitous rice and beans and some very tasty appetizers. I especially liked the fried plantain basket with seasoned ground beef.