Well, it's been a wild few days getting to North Carolina and adjusting to the time change but the results have been well worth it. I had to choose between being at the Medford airport by 4am for a 5 o'clock flight or leaving in the evening to catch the redeye from Portland to Atlanta and then on to Raleigh. I opted for the redeye. Well, I thought it would be a good idea to get to the airport a little early and grab some dinner at the restaurant there. Oh, Medford, how can you call yourself an International Airport when the one restaurant isn't even open at 6pm? So, I grabbed some snacks from the gift shop to tide me over until Portland, where I had a two and a half hour layover. Fortunately, there was a Rogue brewery outlet right next door to my gate. I highly recommend the Chocolate Stout and the Mahi Mahi fish and chips.
Unfortunately, it was a full flight and sleeping wasn't really an option. Even if I could sleep sitting up with a 250 lb man encroaching on my space, there was so much turbulence it woke me up every time I thought I might drop off.
My vision of coffee between flights was quickly dispelled when I realized that the redeye was half an hour late and I had only 45 minutes to change planes if it was on time. Of course, the flight to North Carolina was departing from a different terminal. By some miracle I arrived at the gate just before they shut the door. Though I feared for my bag it turned out my bad baggage karma was over for now and it arrived in Raleigh on the same flight as me at 8:30 local time.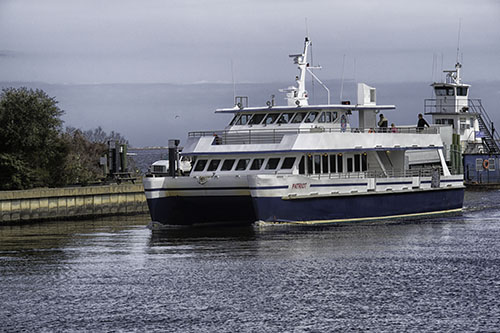 Alas, I still had a 2 ½ hour drive and a 20 minute ferry ride ahead of me. Fortunately the traffic wasn't too bad and I was fortified with Starbucks. After two rest stops and a killer Carolina barbeque lunch I made the 2pm ferry to Bald Head Island where I was greeted by my old and dear friend Betsi.
After dropping my bag at her house we proceeded on a tour of the island.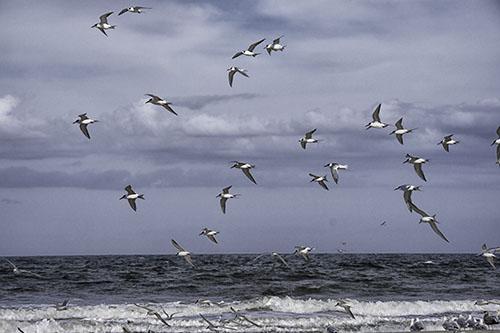 The cool air on the ferry and lunch had bucked me up for a while and I enjoyed a walk on the beach where we scared off some birds and looked for sea shells followed by a home cooked dinner before I finally crashed completely at 9pm. I should mention that Bald Head Island is mostly car free (service pickups are allowed) and we zoomed around the Island in a golf cart. There are only 200 year around residents on the Island so it was pretty quiet this time of year and we mostly had the roads and beaches to ourselves.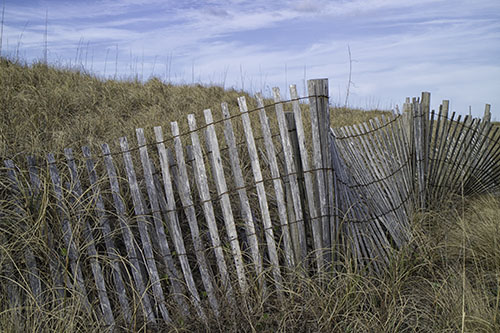 Next day we set out to photograph some of the things I saw on the tour the previous day including this falling down fence and to take another walk on the beach. We found lots of shells and lots of feathers but it took some time to turn up the elusive goal…a perfect sand dollar! Betsi found this one but graciously gifted it to me and it is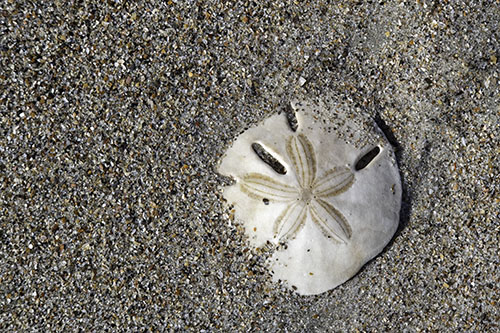 now carefully packaged in bubble wrap and a box for the trip back to Oregon. The weather, I have to say has been absolutely gorgeous.
Just before dinner the first night Betsi said "Come here, I want to show you something." So we walked across the street to a gazebo overlooking a lagoon and here were upwards of 30 great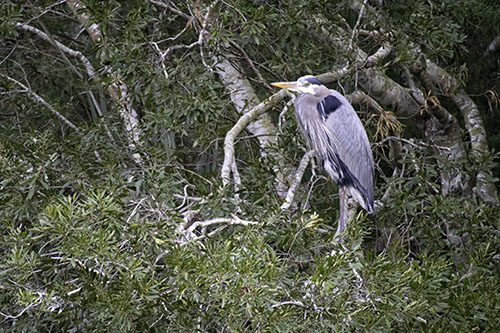 egrets come in to roost for the night. Of course, it was too dark to photograph and when we came back the next day they all flew away but this great blue heron wasn't budging and as we were waiting for the egrets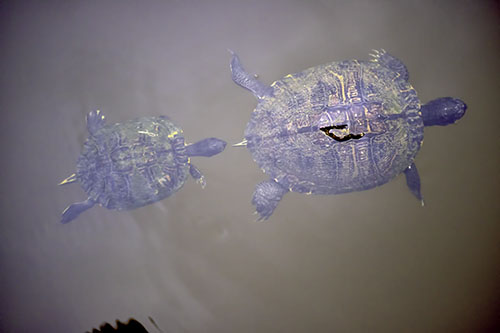 to come back a whole herd of turtles swam by. We then went down to West Beach for the sunset which was
spectacular and I once turned around and there was Old Baldy (the lighthouse) surrounded by pink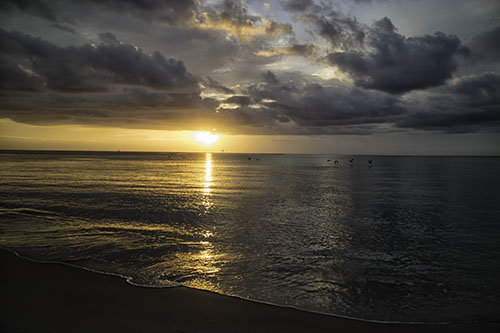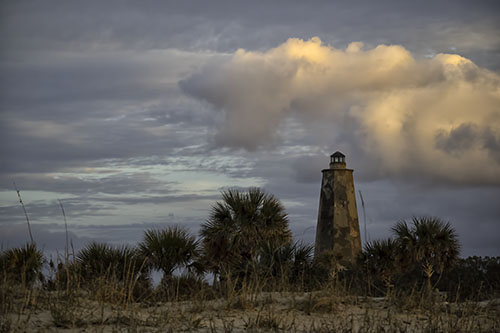 clouds. I went back to see if I could capture the egrets and though it was pretty dark I did get this one shot.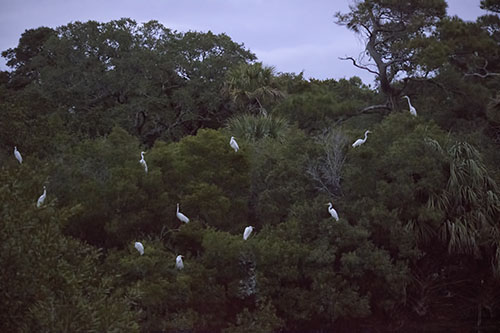 After a good breakfast and a short nature walk it was back on the ferry for me the next day and a totally different kind of experience in downtown Wilmington which I will tell you about later.