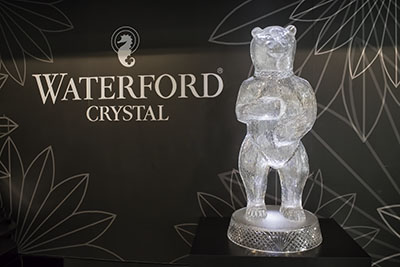 Today was mostly spent of the bus but we did have a stop in Waterford. First we visited the Waterford Crystal factory and showroom where many glittery things caught o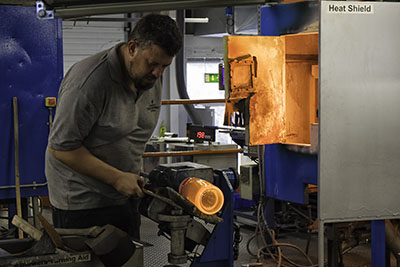 ur eyes.
Including this bear which it turns out is made in four  pieces (head, torso, legs) and glued together.
We got to see the process of shaping the glass by blowing though molds
are also used for special shapes such as the bear parts and things like footballs for tro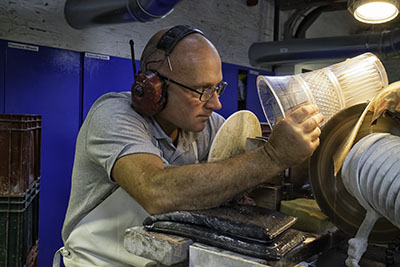 phies.
Here is a master cutter concentrating on his precision work to put the pattern into
the glass.
I also had some fun with my closeup lens photographing the detail in some of the patterns on display in the showroo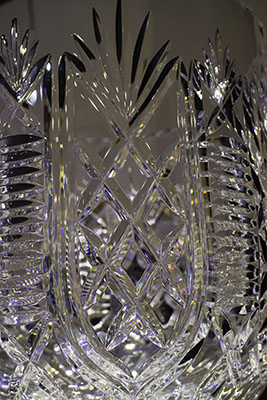 m.
Then, just to keep us humble, we had lunch at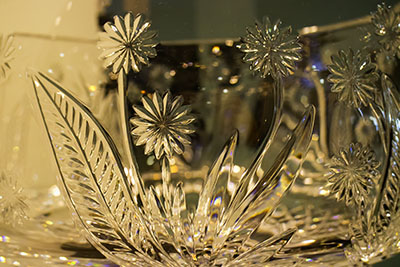 a community center that does many good works for many different groups, from Downs Syndrome to COPD. If I understood correctly they are somehow affiliated with the Christian Brothers. I couldn't help but wonder about our priorities in the United States. We can be hyper-critical of the British for turning a blind eye to the potato famine in Ireland but are we really any different as we turn away refugees and ignore the apparently growing numbers of people in our own country living on the streets? At least I didn't have to feel guilty about spending my money on crystal since I didn't buy any.
Ultimately we proceeded on our journey to Dublin, the last stop on the tour but with three days full of exciting adventures still ahead.