On our last full day in Havana it started to rain. The backup plan was to take us to an art gallery to see some Cuban art. It was interesting and some I liked. Some was very dark. But it was hard to appreciate without a little background and commentary on the history of Cuban art. I also couldn't help but wonder how many of the works hanging on the walls had been confiscated from wealthy homes after the revolution.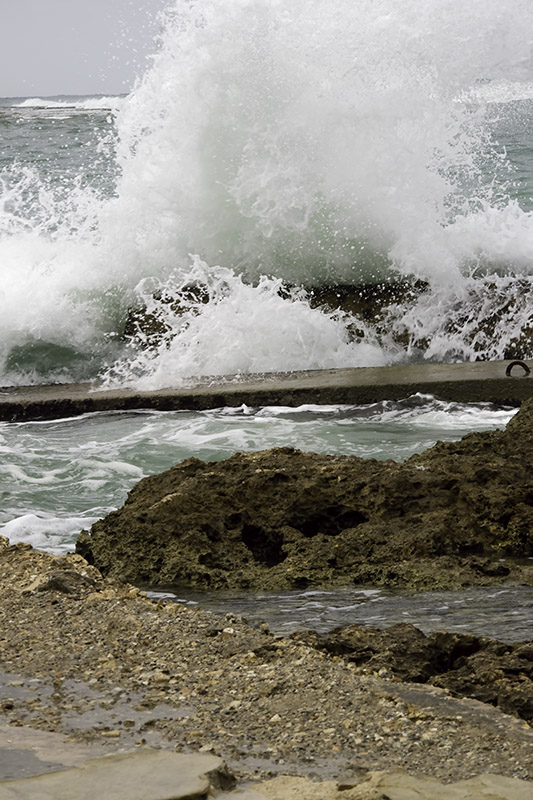 We were then taken to a seaside village which appeared very poor but where a retired surgeon and his wife had opened a restaurant called Julio, specializing in seafood. The house was set out over the water and on that day waves were crashing all around making one wonder how it had ever survived a hurricane. We were served a sumptuous lunch of seafood including, fish, clams, lobster, and shrimp. Appetizers include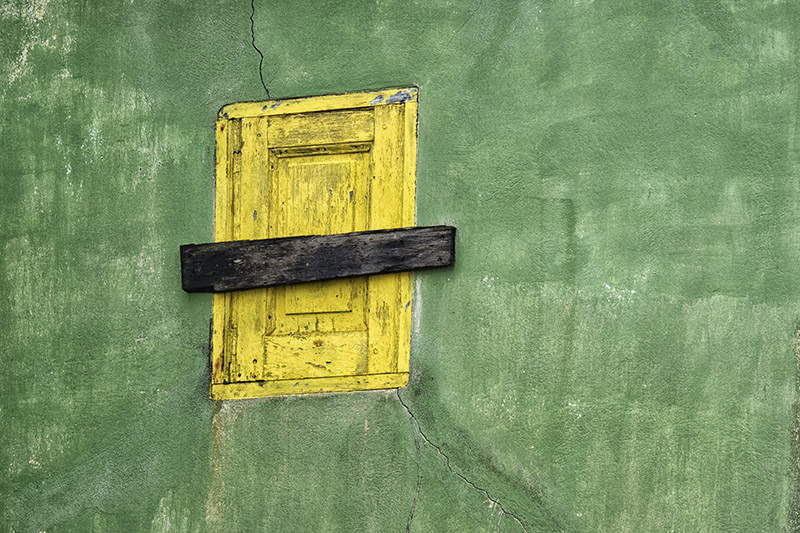 d fried banana cups filled with tuna fish and calamari. As always the ubiquitous rice and beans. Desert was some sort of candied orange and cheese, not really to my taste. I left feeling quite stuffed. by the time lunch was over the rain had abated and I was able to get a few interesting shots around the village.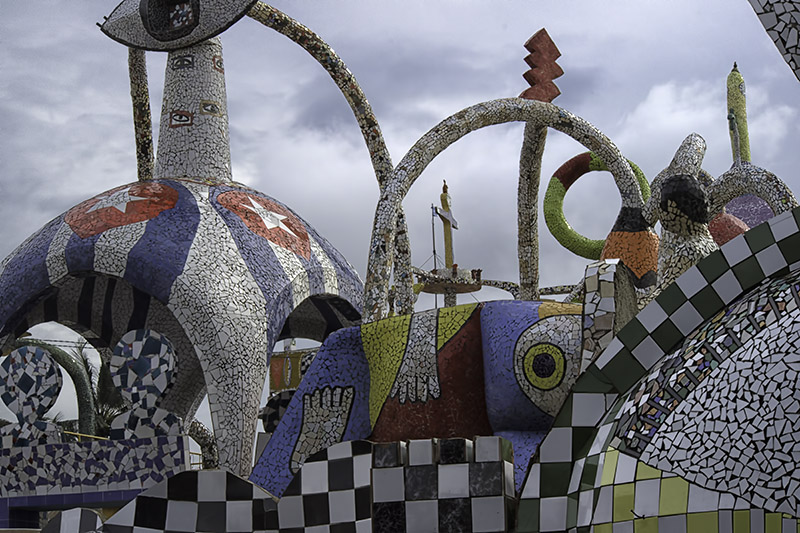 We stopped on the way back at a neighborhood where an artist had covered the walls with mosaic and created sculptures not only at his own house but for many of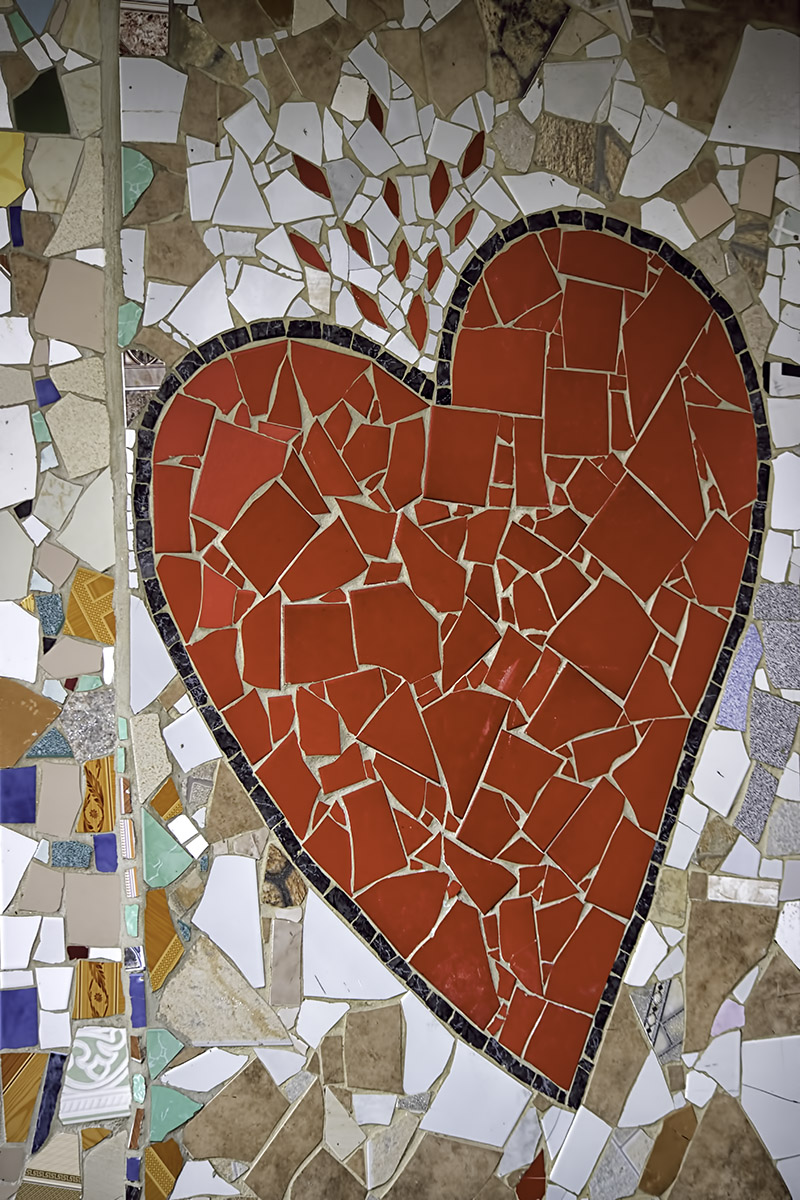 his neighbors. It was apparentlymeant as a tribute to Gaudi. Unfortunately, a huge tour bus arrived just after us so we were not able to fully enjoy the art. This was the one place outside Havana that I saw a full fledged gift shop, albeit in someone's front yard. Alas, still no t-shirt that spoke to me.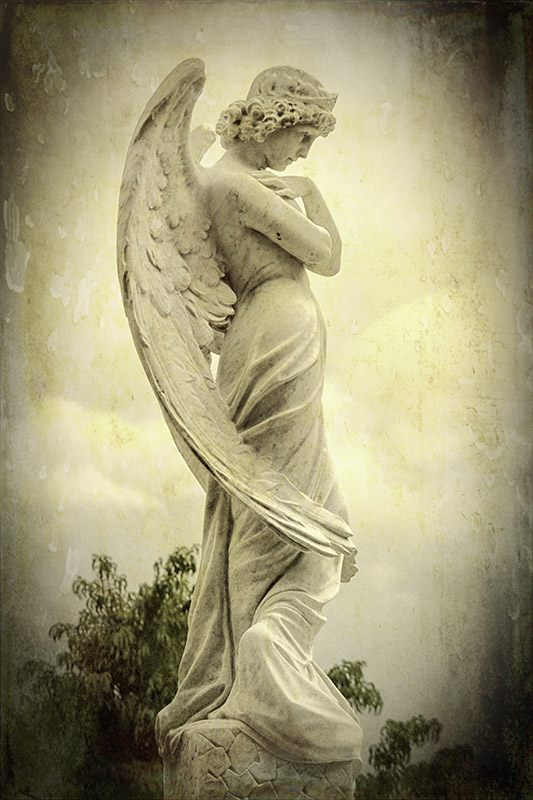 We then proceeded to an old cemetery that took up at least 16 city blocks. You might ask what the heck do you photograph at a cemetery? Like Valle Prehistorica this required a little creative openness and thought toward future processing. I started off with angels but then realized that about 90% of the monuments were angels and I could not possibly get them all and after all, how many angels do you need even for future creative elements. I then started in on windows and doors of the mausoleums and decorative iron fences.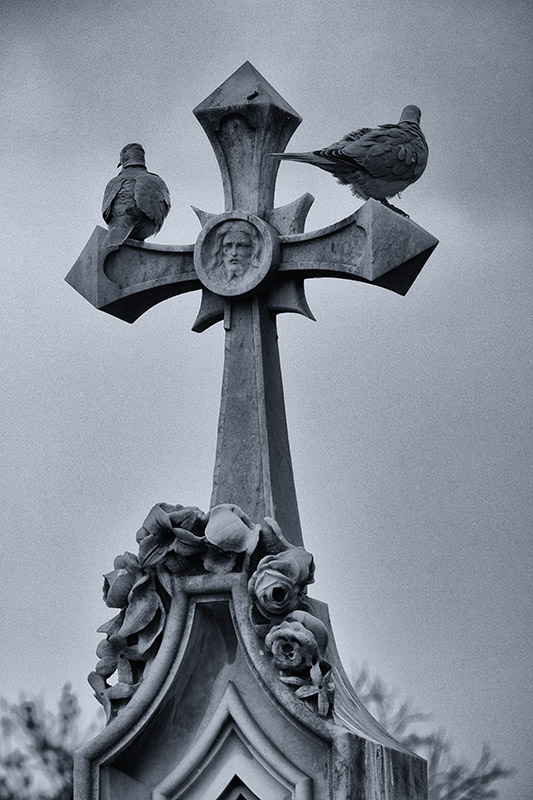 I also got some great textures for future digital artistry projects.
Unfortunately, as I was blithely approaching an interesting looking window, I walked into the territory of some stray dogs and was viciously attacked. I think the hat and raincoat and camera were just too intimidating for the dogs. I don't think I was bitten but just scratched as the dog's foot glanced off my leg, though for a time I was having visions of rabies shots. They did settle down right away when I told them to shoo. I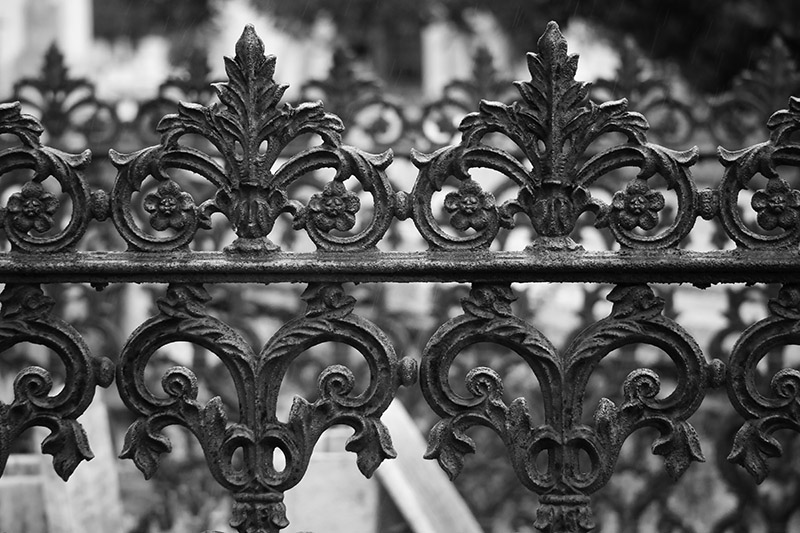 wiped off the blood with a kleenex then poured hand sanitizer over it. I later had Dr. Norm look at it and he washed it again with bottled water and more purell and kept checking it the rest of the trip. It seems to be healing up just fine.
We went back to the hotel for a short siesta then were picked up for our farewell dinner at a lovely restaurant, La Bonita, out in a Havana neighborhood. We had pork chops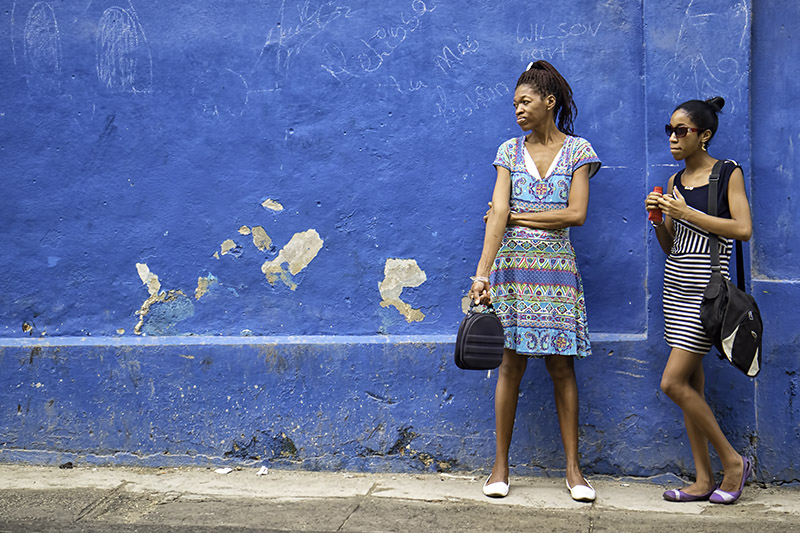 which were delicious, not like the over lean pork we get in the U.S. There was a luscious cervice for a starter, rice and beans, of course, and flan with ice cream for dessert. And we had wine which is hard to come by and expensive in Cuba. There was a jazz trio p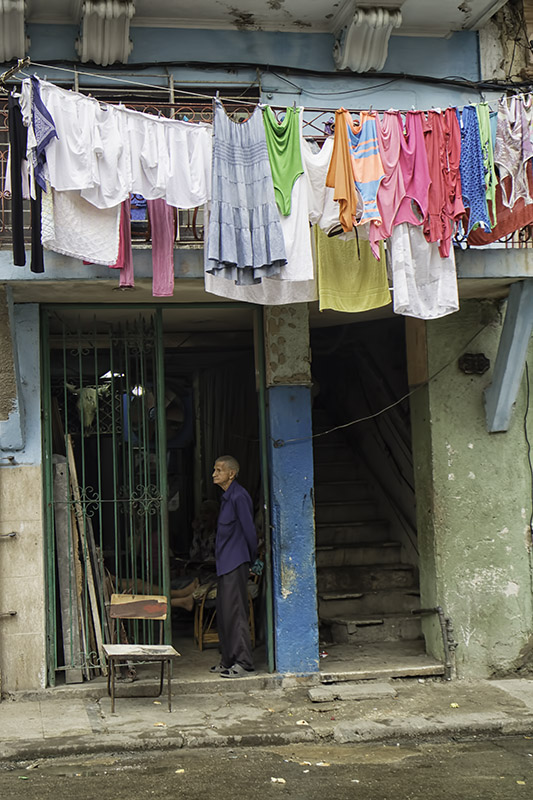 laying and since we were the only table it seemed to be just for us. We all bought their CD, which, it turns out, is my only souvenir from Cuba, there not being much to buy in the first place and lacking quality in the second place and probably not made in Cuba in the third place.
The next morning I was all packed and had breakfast and it stopped raining for awhile so I went for a walk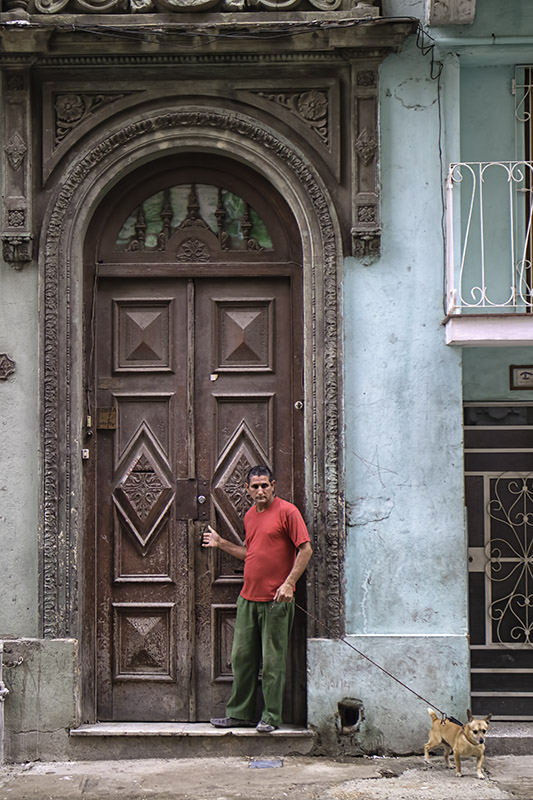 behind the hotel. There I found some of the most abject poverty, not to mention filth, I have ever encountered. I also found some of the best street photography of the entire trip. Still, I soon proceeded back to the rich side of the hotel and photographed old cars for a while.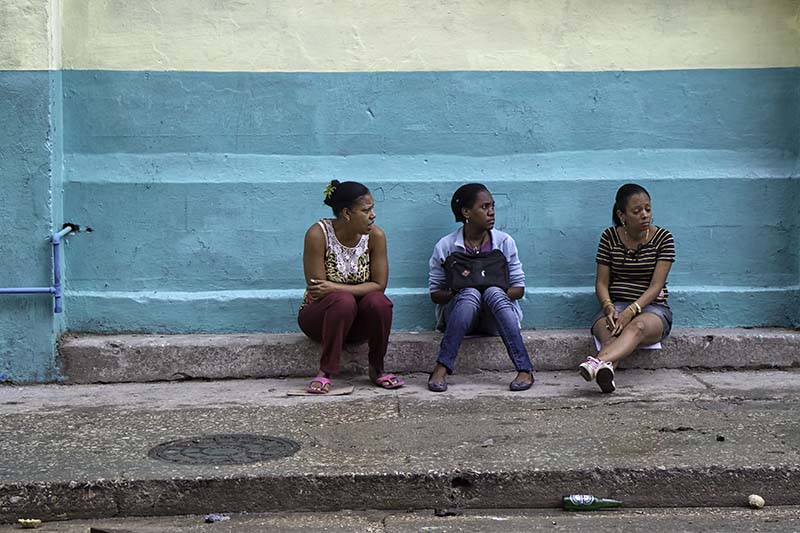 At 10:30 we were whisked off to the airport where we said goodbye to Leonel and were left on our own to negotiate the lines. First we went to the money changing line. They said, "Sorry, we have no American Dollars" then we were told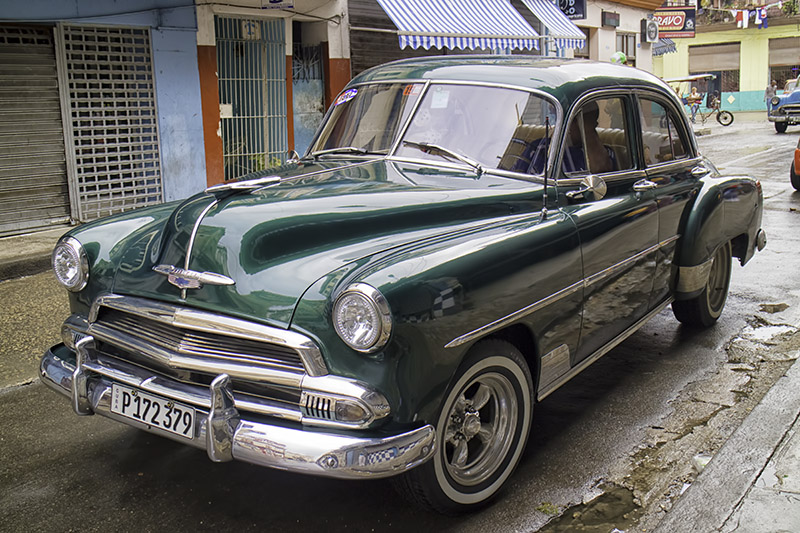 to go over to another window and were taken one by one into a small room. They locked the door and a man in a suit proceeded to exchange my CUCs for American dollars, one to one. They ran out of dollars before we were all through the line and some of our party had to exchange their CUCs for Euros to be exchanged for dollars when they got back home.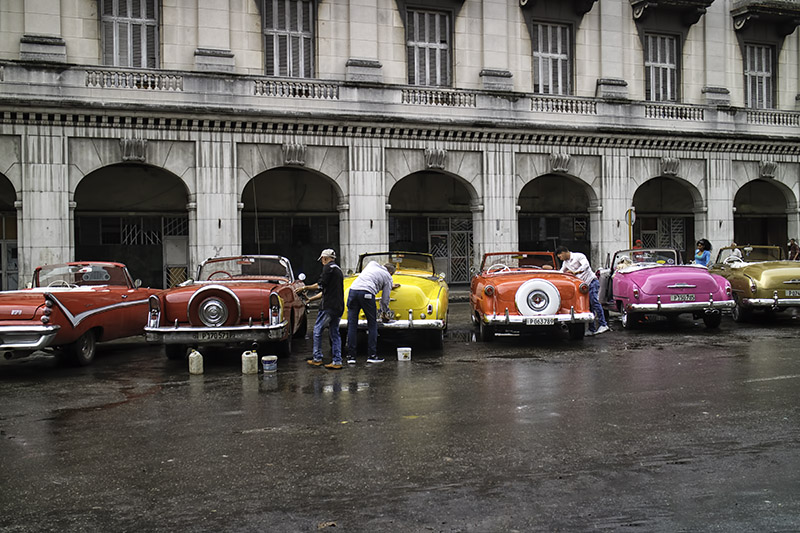 Next was the line for checking in for our flight. I had needed to go to the restroom when we arrived but could not find one so stood in the line for half an hour with my legs crossed. Finally, I got the counter and checked in and got rid of my suitcase and asked for the banos. Sure enough way past customs and down a narrow hall was the ladies room. I started to go into a stall and an airport worker yelled "Paper" reminding me that in Cuba you have to obtain your toilet paper before going into the stall.
Much relieved I proceeded through customs which was no big deal. Then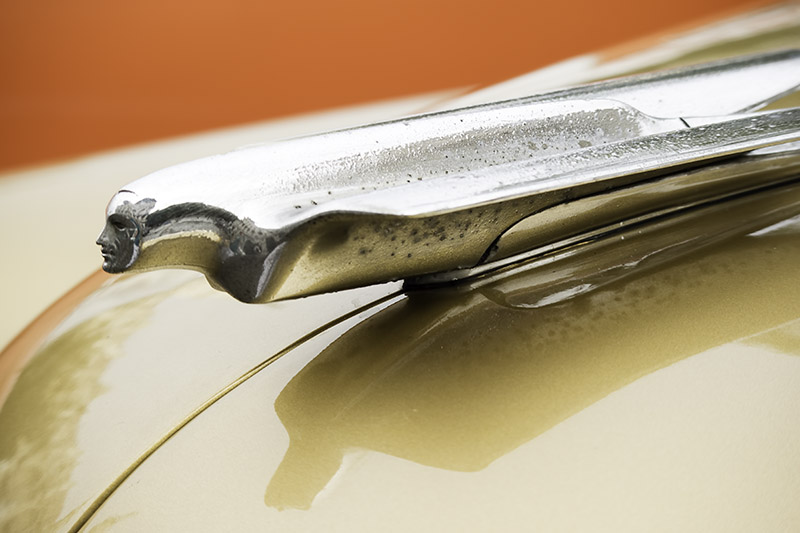 security which was not too bad though I tried to ask the woman if she wanted my computer out but she was intent on telling me to take my belt off until I finally lifted my shirt to show her I didn't have a belt on. Then, of course, on the other side I was asked to take the laptop out so they could scan the bag without it. And then we proceeded to sit and wait for our flight which was only an hour late and that's pretty good for Cuba time.
I have to say, I have never been so happy to return to American soil. Cuba was warm, Cubans were friendly, the colors were amazing, the photography was outstanding but all the time something was just a bit off. And I guess that's why I travel, to get out of my comfort zone. But it is also, oh, so nice, to snuggle back into it when I get home.