So, getting back to Thursday, I collected the rental car at the ferry terminal and started the short drive to Wilmington. I stopped off at a little museum at the site of an early settlement called Brunswick of which all that is left is the brick shell of an old church. I learned a little about the history of the Cape Fear region and then moved on.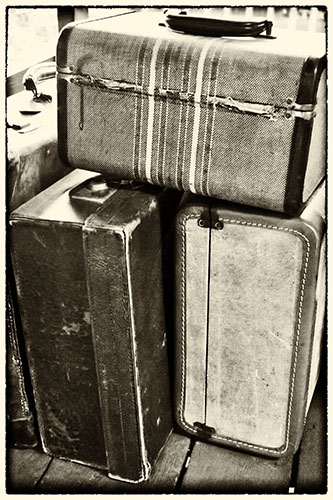 Just over the bridge is downtown Wilmington but I could not check into my hotel until 3pm so I went in search of lunch at a little shopping center called the Cotton Exchange. After wandering around for a while not finding any serious restaurants some guy invited me to come taste his fudge and I said "You, know, I'm really looking for lunch." And he said "Oh, that place over there is great." So I went in and found them serving down home Southern Comfort food. I ordered an Oyster Po' Boy and fried okra. I would never have thought to eat fried okra but it was forced on me once in Carlsbad, New Mexico and I found I really liked it so now I eat it when I get the chance, which isn't often.
I wandered around the Cotton Exchange a little longer after lunch, mostly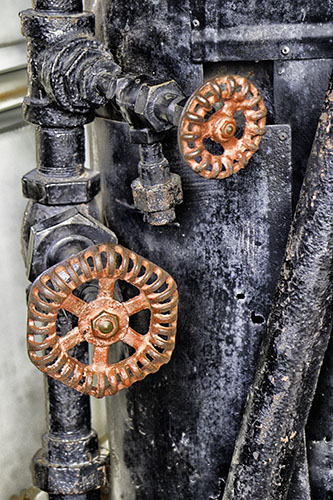 galleries and souvenir shops. But my parking meter was about to expire so I had to move on. I had set my sights on the Railroad museum in hopes of finding some good steam punk images but was sad to see that most of the museum was model railroads and there was only one real train outside. I stopped in at the visitor's center next door and picked up some literature from a very strange woman who seemed to think that browsing at a visitor's center was not acceptable. One must ask very specific questions, one must know exactly what one is looking for.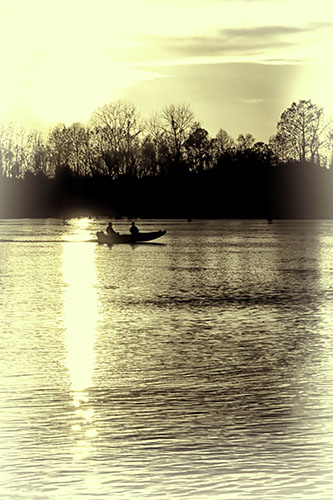 At this point I decided I might as well try to get into my hotel room since I was tired and I had no more change for parking meters and couldn't find the entry to the Riverwalk. The Wilmingtonian turned out to be a collection of old buildings refurbished but about ready for another round and smelling strongly of mildew which is clinging to my clothes even now. But the price was right, the bed was comfortable and the shower was hot. I could have lived without the loudmouth on the balcony just across from my window though.
In perusing my hard won maps and brochures I found that the restaurant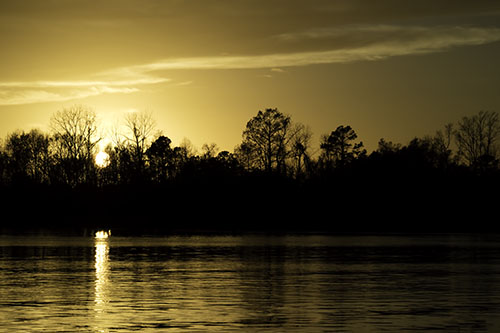 my friend had recommended was just a few blocks from me and I headed out just before sunset. Since it was right on the river and had an outdoor deck and the temperatures were very mild I sat down and ordered a glass of wine and some shrimp and grits and watched the sun set over the Cape Fear. Unfortunately my waitress was apparently doing the same and service was a bit on the slow side so it was well after dark when I made my way back to the Wilmingtonian.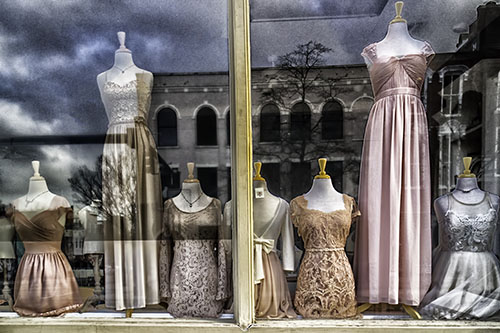 Next morning I set out to explore downtown and take pictures of architectural details. I actually found the widow displays and some unusual signs to be the best subjects. I stumbled upon a café called the Dixie Grille which seemed to be about the only place serving breakfast. But, no matter, the cops were eating there so it had to be good. And it was. I ordered the Dixie Benedict. A biscuit, scrambled eggs, fried green tomatoes smothered with Vidalia onion gravy. OK, I think I have check all the boxes on Southern Cuisine now.
After checking out of my hotel I proceeded to explore the beaches of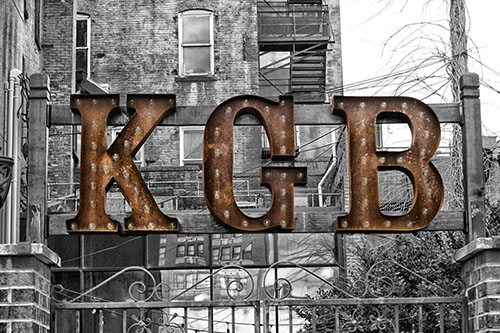 Brunswick County which were a huge disappointment to this native Oregonian. All the beaches are lined with houses and access is limited, parking lots often charging for the privilege. And while the good news is the temperatures have been in the 70s. The bad news is the locals are all flocking to the beaches. Hoping to get an earlier start today and exploring beaches further to the north and getting some decent photos.