Today's field trip really put the icing on the cake for me.  I have been yearning to have a chance to wander around a cemetery and photograph old headstones and celtic crosses and today my wish came true. Glendalough is an ancient monastic site that was active from the 7th to 12th century. That's 500 years folks.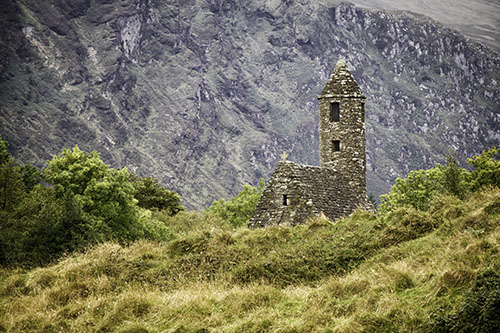 Here is a picture of St. Kevin's Church which was the main place of worship prior to the building of the Cathedral in the 12th century. And here is another view from closer in. The cemetery does not seem to be as old as the monastic buildings as many of the graves date from the 19th century and some further out are even from t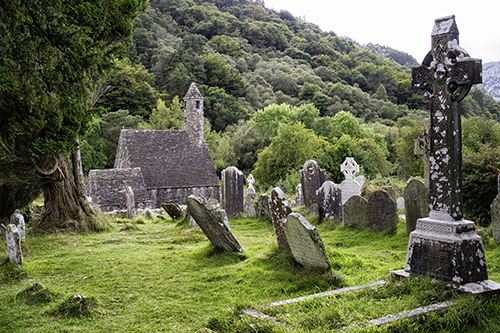 he 20th. One of the challenges today was the flat white sky.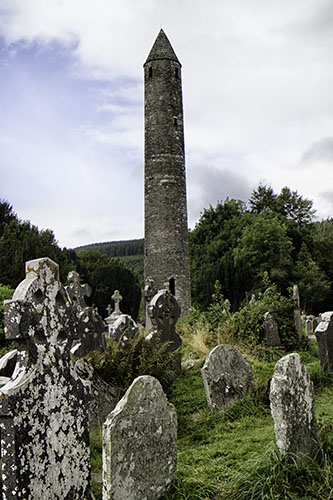 The round tower was a bell tower and landmark to help visitors find the place. Occasionally when marauding Vikings struck it was also used to protect supplies but not, as was earlier thought, the people of the community.
A word about the Celtic cross. We had an archaeologist talk to us early on and express the opinion that the term was a misnomer as the Celtic period in Ireland dated from about 500 BC to 400 AD and the Celts were pagan so had nothing to do with the crosses which generally date from the 8th to 12th century. However, it has also been indicated that the whole idea of the Celtic Cross was to make Christianity less threatening to the pagans by adding a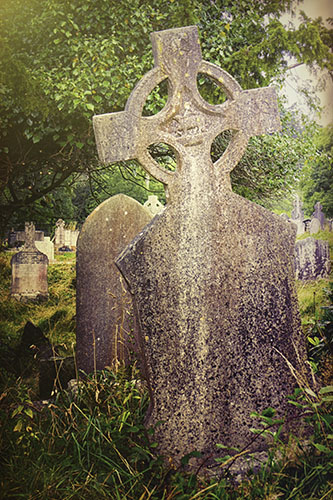 circle representing the sun to the Christian cross.
In any case, I have a fascination with Celtic crosses and Celtic inspired design and the notion of a brand of Christianity that is closer to nature and less dominated by imperialism. Some of the older "High" crosses date to the 8th century and may have been used by the monastics to mark their boundaries. But just because they were not cast in stone until then does not mean they did not exist until then. There apparently was a renaissance in the 19th and 20th century as the cross was embraced anew and became popular for grave markers.
I now have over 1800 images in my Ireland file so if you have been following along you know that you have seen only the tip of the iceberg so far. Not that they are all worthy of further consideration but there certainly will be more to come once I have time to sit down and work with the images. So look for at least one more posting on Ireland but not before the middle of next week as I have to travel home, recover from jet lag, and celebrate my birthday before I can finish editing my pictures.