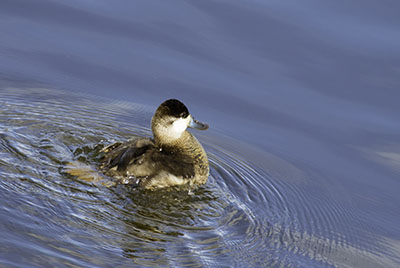 It was another full day today starting with a bird walk at a place called Oso Flaco, or Skinny Bear. We saw Scaup, Ruddy ducks, Cinnamon Teal, Northern Shovelers, a green heron, juvenile black crowned night herons, and white pelicans as well as some shore birds and a few black phoebes. The Ruddy ducks proved to be the most photogenic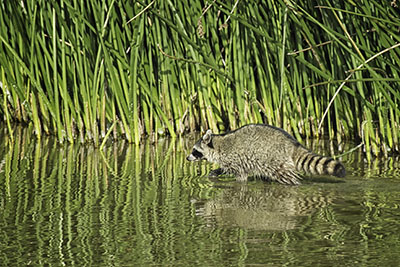 though. And then there was this marauding mammal that snuck into the picture.
Next we had a real treat with a visit to the Monarch Butterfly grove in Pismo Beach where the Pacific butterflies come to hang out for the winter. We even got to see some mating behavior. I have in mind to do something artsy with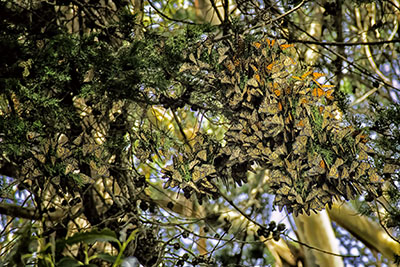 butterflies but it isn't going to happen tonight so this view of the clusters where they hang together will have to do for now though it is awfully hard to see that this is really a tree covered with butterflies and not a bunch of dead leaves.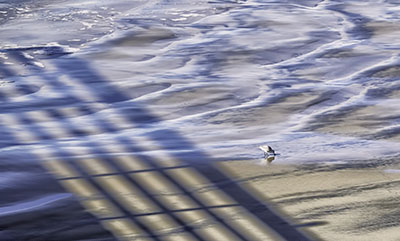 Finally, we had lunch in downtown Pismo Beach and then strolled out on the Pier and around town looking at the shops and taking pictures of the signs. By this time I was almost too tired to enjoy it. The first picture here is an artistic look at the shadow of the pier against the patterns of the waves in the sand. The shorebird just ties it all together. Then we have a great painterly rendition of the Splash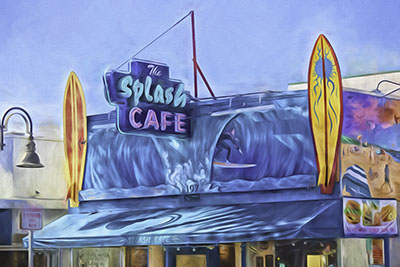 restaurant. Splash has been providing our catered meals throughout the week.
We ended the day with an very fascinating talk on falconry and owls with live bird examples. Nobody told me to bring my camera and I was too pooped to go back and get it.
Tomorrow promises to be another very full day but a trip to the Elephant Seal rookery will definitely be the highlight!