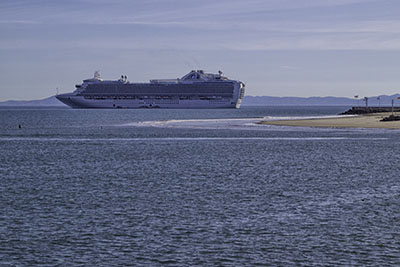 Today has been fraught with frustration. Largely because of my nemesis on the left here. I am still puzzling over how it is possible that I could pick the one day in two months that the cruise ship comes into Santa Barbara to be my one day to explore the city. Curses, curses, curses.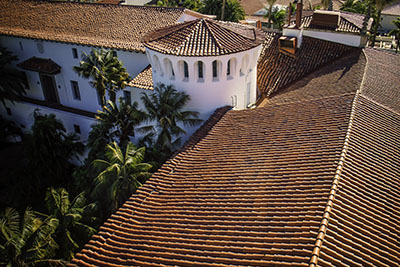 Well, I did make it to the courthouse in spite of them but before I had finished capturing it's amazing beauty my battery ran out. And I immediately realized I had forgotten to charge the spare. So, one caution about the M3 is that it is a real battery hog and you may need three to get through a day of serious shooting. The tile roof shot is taken from the clock tower which also offers great views of the town.
I wa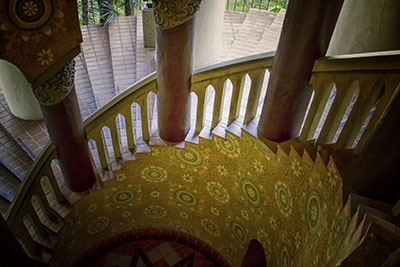 s also impressed with this spiral staircase and the gallery was my first peek inside. Unfortunately the battery crapped out before I finished shooting the exterior.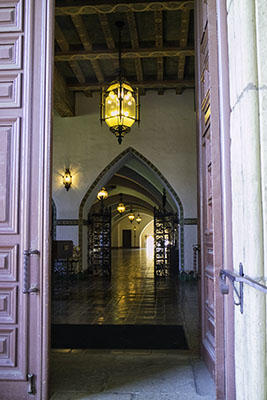 So, because of the cruise ship I couldn't get a shuttle going back to the waterfront where my hotel is. After waiting half an hour I finally jumped into a pedicab which cost me $5 to go 6 blocks. Then I had to Wait around for two hours for my battery to charge. Fortunately I had stopped for brunch after leaving the courthouse.
I finally set out with a fresh battery to explore Stern's Wharf. A dismal tourist trap if every there was one and the Funk Zone which has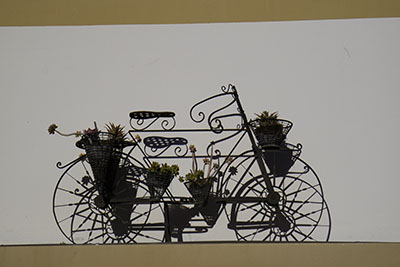 possibilities but is losing its Funk to trendiness. I finally stopped into a wine tasting room for a little attitude adjustment. I did find a little funk, including this bicycle sign and its shadow.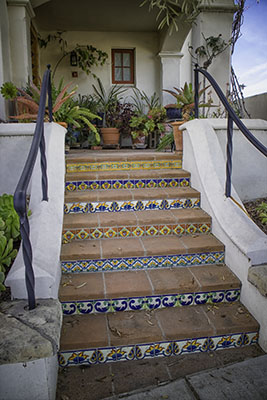 And somewhere on my walk I found these stairs that spoke to me of the essence of Santa Barbara. I can see now that one or two days is not enough time to get to know this city. Guess I will just have to come back again, and again, and again. Don't think I would want to live here though. SLO town is more my speed.
Tomorrow I have to start making my way home and it looks like I need to get over the pass on Friday so I don't know if I'll have much time to photograph. Well, I do have to post an image for the 100 days project. And you can bet your boots that the M3 batteries are all charged up.