Just getting warmed up for my trip to Cuba. I had a one day layover in Miami and decided to check off another bucket list item with a trip to Miami Beach. After paying the cab fare downtown and back, the cost of the tour and my $40 lunch I am not sure it was worth it but at least now I can say I've been. I had hoped to get more closeups of Art Deco detail but it just wasn't happening for me. The bus was going to fast, I got off and walked around for an hour but pooped out and didn't find as many classic examples as I had expected. Just when I thought we were getting somewhere there was an accident on ocean avenue and the bus had to take a detour. I did get a couple worth sharing. Our tour guide pointed out that one of the signature looks of art deco is things in threes. Here are two examples.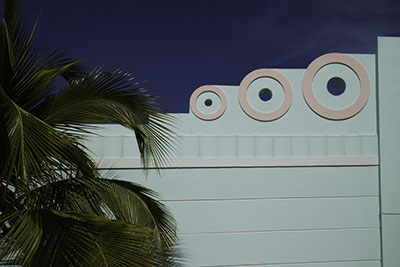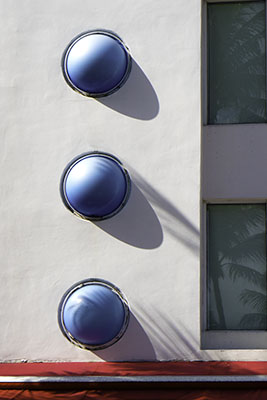 Of course the pastel colors are also iconic at least in Miami Beach. And here is one hotel that has the classic look: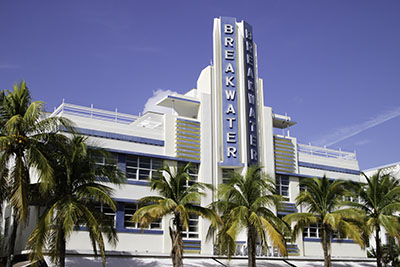 I was also excited that I haven't even gotten to Cuba yet and got my first classic car from the 1950s. It looked a little better with an artistic treatment in Topaz simplify though. I also don't think it's going anywhere with that flat tire: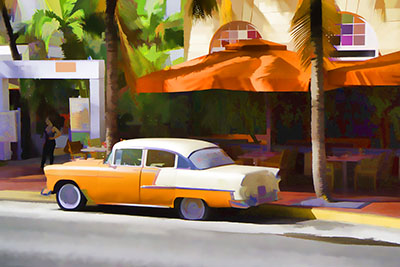 So, tomorrow on to the real deal. Not sure what to expect with the country still in mourning for Castro. His funeral is Sunday so maybe things will liven up after that. I'm told that Wi-Fi is unreliable at best so I don't know how many post I will be able to do but I'll at least write things up for posting after I'm back.