I promised you more on Ireland and I wasn't kidding. But now nearly a month and a half has passed without a post and I'm not sure anyone is paying attention. But here it is none the less for I have not been idle!
In sifting through my images for what to share and what to delete and what to save for another look down the line I got to thinking about the difference between telling the tale and creating art. Travel photography, after all, is really about telling the tale. But my primary focus is on creating art. That is, the reason I travel is to find things that I can photograph and turn into art. But what I have recognized in going through the images is that there is a kind of distillation process going on throughout.
So the first cut if you've been following the blog is to find images that tell the tale of the day to post on the blog. I have only a few hours in the evening to come up with the few images that best illustrate what I saw that day. I may not always chose the most artistic ones or have time processes them to their best advantage.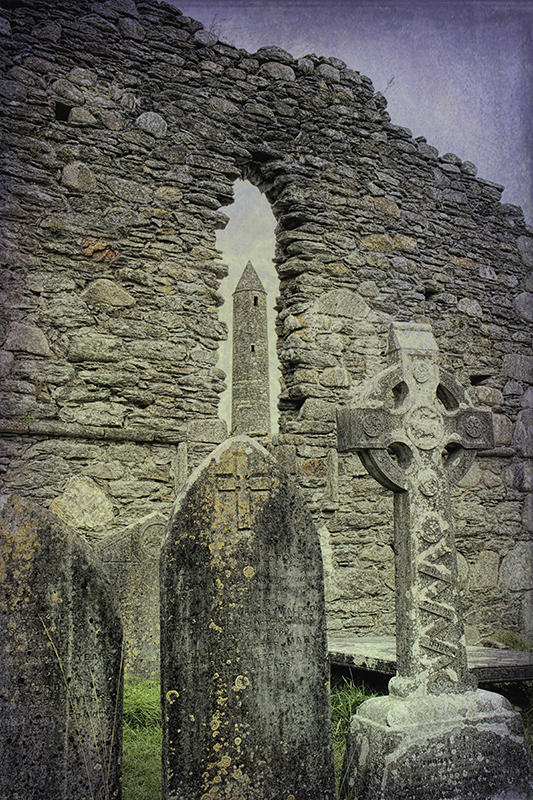 Here is an example of an image from Glendalough that didn't make the first cut even though it is a great composition. I passed over it because of the flat white sky in the upper right corner. But later I realized I could get around that by using a tinted texture to give the sky more interest.
In the second cut after I got home, I was looking to create a slide show that tells the tale of the trip. This you will find at: http://jeannehoadley.com/Ireland.ppt.
Many of the images that made it into the blog are also in the slideshow because they were good compositions that I liked, some did not because there was a limit to what I could put on one slide. Just for grins I went back and counted and each blog had from three to 10 images. It gets rather cumbersome to work with more than five or six images on a powerpoint slide. And I didn't want to go overboard with too many stained glass windows or floor tile pictures in the slideshow where all the images are seen in a space of ten minutes. In the blog there is a little more room for repetition as the images are ideally seen over a period of days and there is commentary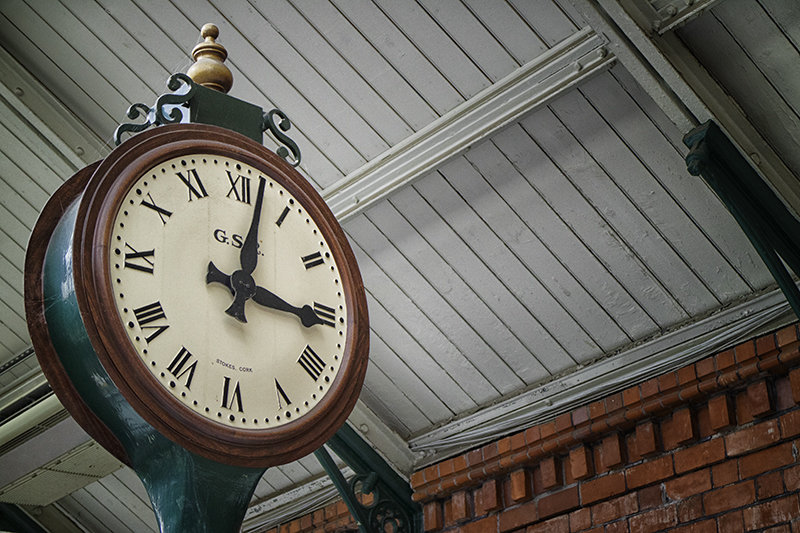 to explain things in more detail.
So that brings us to the third cut in which I attempted to distill the images down to 20 to 30 for a virtually gallery show of what I felt were the most artistic images from the trip. I finally settled for 35. In some cases, such as this clock, I transformed images from how they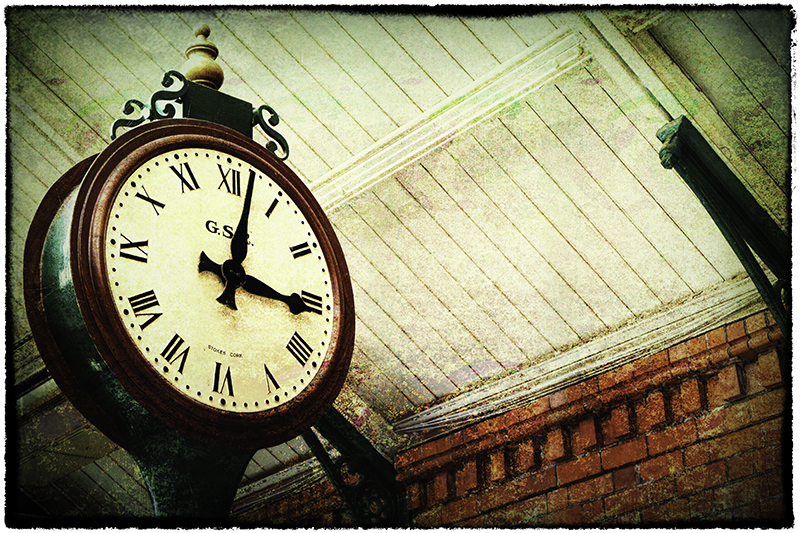 were presented in the slideshow because I saw a way to make them more artistic.
In other cases, I found images that didn't necessarily qualify for telling the tale but made good art. The first example is this barn in Donegal on the Inishowen peninsula. I had other pictures of barns in that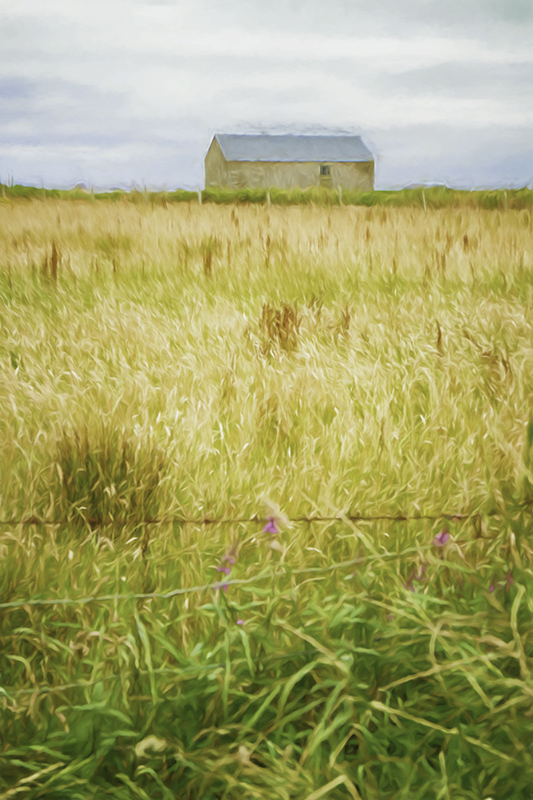 area that made both the blog and the slideshow but this one was kind of dull and unassuming until I gave it a painterly treatment so I decided it deserved a place in the gallery show. (Which, by the way, can be seen at: http://jeannehoadley.com/Ireland)
Another one that doesn't really scream Ireland and was taken out the bus window on a rainy day with a flat sky was this one from the ring of Kerry. I liked the shapes of the rocks and trees though so I took it into Topaz Impression and gave it a painterly treatment in the manner of Georgia O'Keefe. Once again I was not happy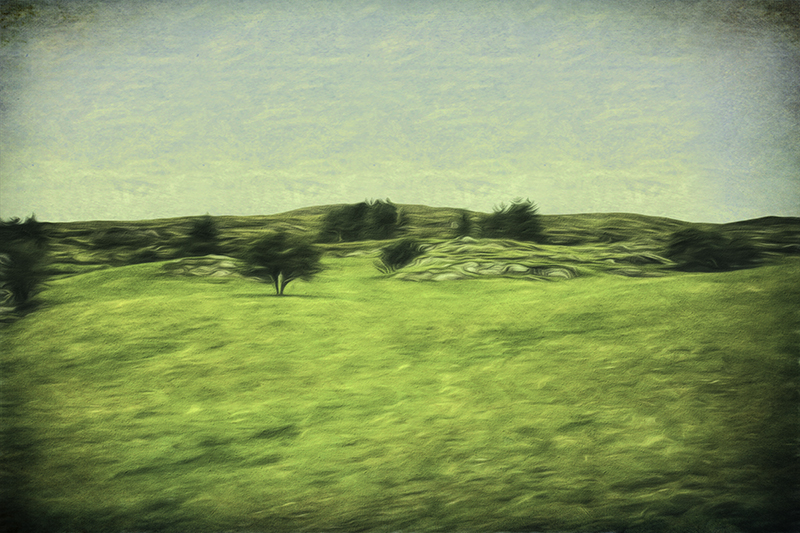 with the flat white sky so I took it into Topaz Texture Effects to give it a little more punch. I'm not sure I'm happy with the border though and I may yet go back and take another stab at it.
So, for the time being I am done editing Ireland and ready to move on to other things. But I will no doubt come back to look for more ways to make art from the remaining 1500 images.
I also want to keep this blog alive between trips so I have some ideas for posts of things that fell into themes in Ireland, clocks, doors, and signs. I've got a photo workshop coming up next week so that may get in here first but stay tuned. And of course Cuba is still coming up in December. At least I haven't heard yet that we have been preempted by Hurricane Matthew.