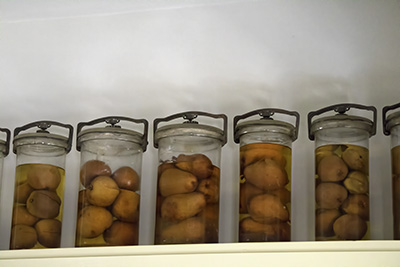 This was the first day of the land portion of our tour. It started with a guest lecture from a local artist named Nancy Spaulding who, with her husband, has been making a living from doing art on San Juan Island for many years. Next we split into two groups with one headed for the History Museum and one to the Whale Museu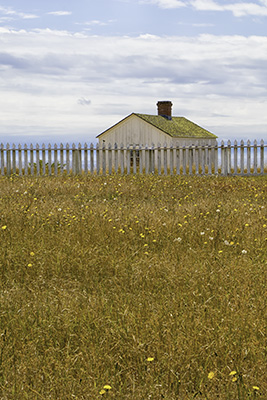 m. My group was for history where we learned about the fruit preserve collection dating to 1909. I always love the small history museum for all the daily utilitarian artifacts they have inherited over the years. This one was no exception.
Next up we had a bus tour of San Juan Island starting at American Camp. There the American soldiers waited out the resolution of the border dispute with the British over the border between the United States and Canada. The only casualty in the conflict seems to have been a pig who wandered into the wrong camp.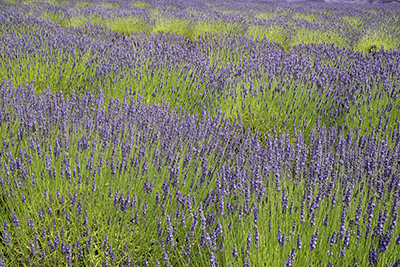 We made a quick side trip to the local lavender farm which for me was a highlight of the trip due to the abundance of colorful photo ops.
We then made our way to Lime Kiln State Park. Here we found the Lime Kiln lighthouse which is seen in many San Juan Island photographs and art works. Unfortunately the time of day was not the best for us and I think I have better images taken from the boat when we cruised by on Tuesday.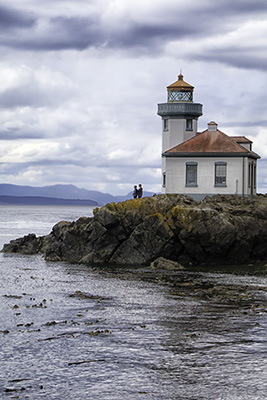 Finally, we continued to explore the interior of the Island, including a drive by the local alpaca farm and a pause to wave at Mona the camel which was adopted by a local farm family. One gets the sense that not a lot happens on the Island but everyone is involved and interested in everything that does.
And then we headed back to the hotel for yet another chicken dinner.